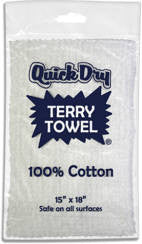 Quick Dry
Quick Dry Terry Cloth Towel
---
Quick Dry Terry Cloth Towel (Item 10TT) This is a 100% cotton 15" x 18", terry cloth towel, in the perfect size for applying, polishing and buffing all of our DRI WASH 'n GUARD® products, and is offered at a great price! 
Disclaimer: Only the DWG buffing towel should be used on the exterior of the vehicle.
Buy 5 and get the 6th one free!
US Individually Packaged

Suggested Price: $1.25 US

Our Price:  $1.00 US
You Save 20%
---
Share this Product