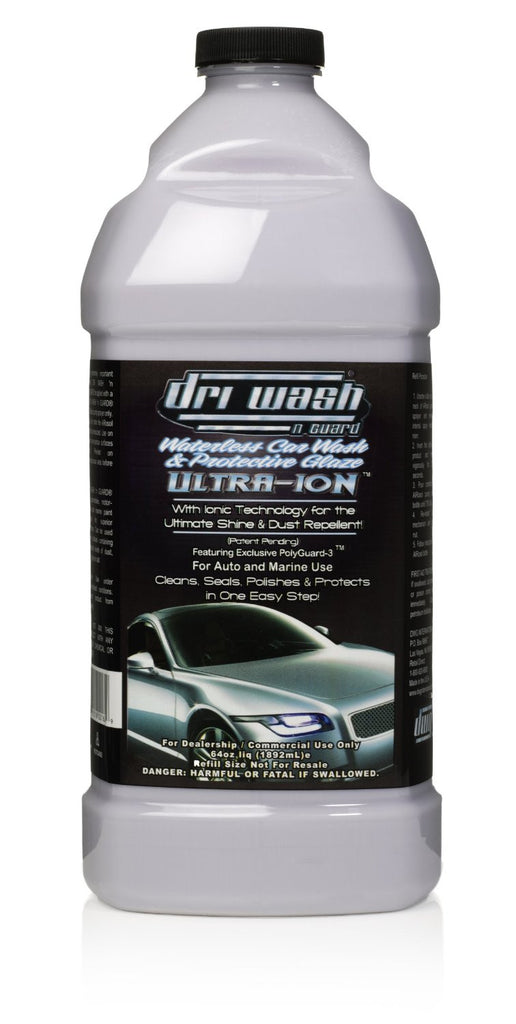 DriWash Solutions
Case of 64oz DRI WASH 'n GUARD® ULTRA-ION
---
DRI WASH 'n GUARD® ULTRA-IONTM Waterless Car Wash REFILL has just been reformulated (as of December 2006) and is now recommended for use on all paints independent of when they are manufactured!

DRI WASH 'n GUARD® ULTRA-ION™ Waterless Car Wash with Ionic Technology helps repel dust from your vehicle's surface as well as attacking and emulsifying any organic material on the painted surface (bird droppings, bugs, etc.) Ultra-Ion also helps in reducing and removing existing minor feather scratches as you apply and buff the painted surfaces.

DRI WASH 'n GUARD® ULTRA-ION™ Waterless Car Wash will give a deeper, richer shine than any other product in the vehicle appearance industry. It is extremely aggressive in emulsifying all organic matter such as bugs, bird droppings and tar and like DRI WASH 'n GUARD® CLASSIC Waterless Car Wash it works exceptionally well on glass, mirrors and chrome!

Case of Two US 64 oz Sold without AIRosol bottle!
Price: $125.90 US
---
Share this Product
---
More from this collection